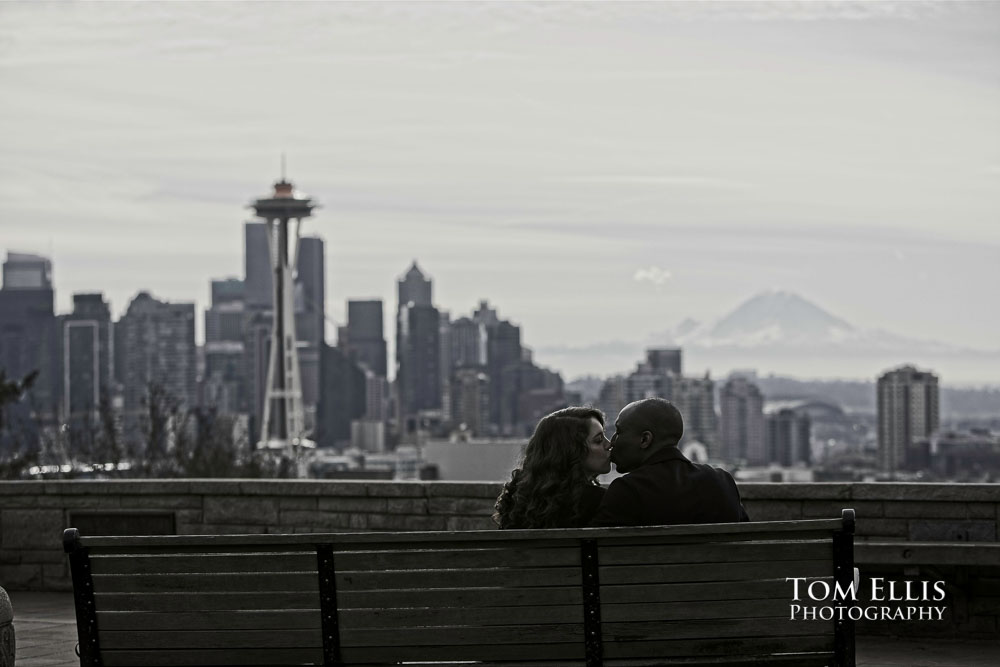 Another really fun surprise proposal, this time with JJ and his girlfriend Jessica.  As is often the case, JJ contacted me about two weeks before the date he hoped to surprise Jessica.  But because this is Seattle, and this proposal would be taking place during the winter, we had no idea that far in advance what the weather conditions might be on the day of the proposal.  I am always happy to reschedule a session if the weather does not cooperate, but rescheduling a marriage proposal is a bit tricky!
With the possibility of bad weather in mind, JJ and I discussed just how to make the proposal work and catch Jessica off-guard.  Fortunately I have done many surprise proposal shoots, and had done one just a few weeks earlier at the same location that JJ had in mind for his proposal; Kerry Park on Queen Ann Hill.  This earlier proposal had worked very well, with the unsuspecting girlfriend caught completely off guard; you can see this proposal session at this link.
Kerry Park is an extremely popular location both for tourists and photographers, and every time I have been to Kerry Park (many dozens of times) there are always at least a few photographers presnt, even if it is raining.  So having me there taking photos would not be a tip-off for Jessica that something was about to happen.  I always set up my camera on a tripod for these kind of situations; it allows me to establish myself in the correct location for the best photos of the proposal (people tend to give space to someone with a tripod!), and is also makes it easy for my client to locate me since I am almost always the only photographer there using a tripod.
I arrived with planty of time to set up and in position before JJ and Jessica arrived.  JJ had sent me a photo of the two of them so I knew who to be watching for.  When they arrived, JJ suggested to Jessica that they ask me to take some photos of the two of them using his phone.  I agreed to do so and placed the couple in the position where I wanted them for the proposal.  I then took some photos and gave JJ his phone back.
Next came the fun part!  I moved back to my camera, which was already set up to photograph the spot that Jessica and JJ now occupied, and waited for JJ to make his move.  He saw that I was ready and pulled a ring box from his pocket and dropped to one knee in front of Jessica, who very quickly understood what this meant.  As this was happening I was clicking away and capturing everything, with Jessica completely oblivious to what I was doing.  JJ did a great job and Jessica was clearly very happy to give him an answer of "Yes!", along with a big kiss.
We then had a great time shooting an engagement session together, and you'll see some examples of this session below.